Eligibility for Healthcare Ethics Consultant-Certified Examination
To be eligible for the HEC-C program and to sit for the exam, you will need:
a minimum of a Bachelor's Degree; and
400 hours of healthcare ethics experience—related to the major domains of the content outline—within the previous 4 years.
While all healthcare professionals engage in ethical decision making, healthcare ethics consultation is a distinct role. For purposes of HEC-C certification, healthcare ethics experience is defined as healthcare ethics consultation work, the majority of which is performed in the role of a designated healthcare ethics consultant, which is related to the major domain areas of the HEC-C examination content outline.
Those who demonstrate the requisite practice experience and pass the certification examination will achieve the HEC-C credential. The HEC-C program differs from existing certificate and degree-granting healthcare ethics programs because it underscores your practice experience and assesses your core knowledge and skillset in clinical healthcare ethics consultation—separate from a predefined course or curriculum. Practicing healthcare ethics consultants may be eligible to become certified even in the absence of a certificate or academic coursework.
Meeting the qualifying hours for certification eligibility
Many healthcare ethics consultants (HECs) wonder about meeting eligibility criteria if they work in a setting where ethics consult volumes may be lower than in other specialty areas. The case study below provides an example of how an HEC in a pediatric hospital setting, with low ethics consult volumes, would meet the experience criteria of 400 hours of healthcare ethics experience, related to the major domains of the content outline, within the previous 4 years. Required experience is set forth in the content outline for the examination. Activities that count toward 2.1 hours per week or 1 day per month include far more than just the "in-the-room" work of doing a specific ethics consult.
If you are considering applying for the HEC-C examination, we recommend that you spend some time writing down all of the work that you do as an ethics consultant, including how much time on a weekly or monthly basis you spend doing it.
Healthcare ethics consultation extends beyond in-person consults
You serve your patients, their families, and your institution through a wide range of healthcare ethics consultation domains and tasks—not just during in-person ethics consultations. Ask yourself the questions in the graphic below to see how you may already be earning eligibility hours for each domain of the HEC-C content outline.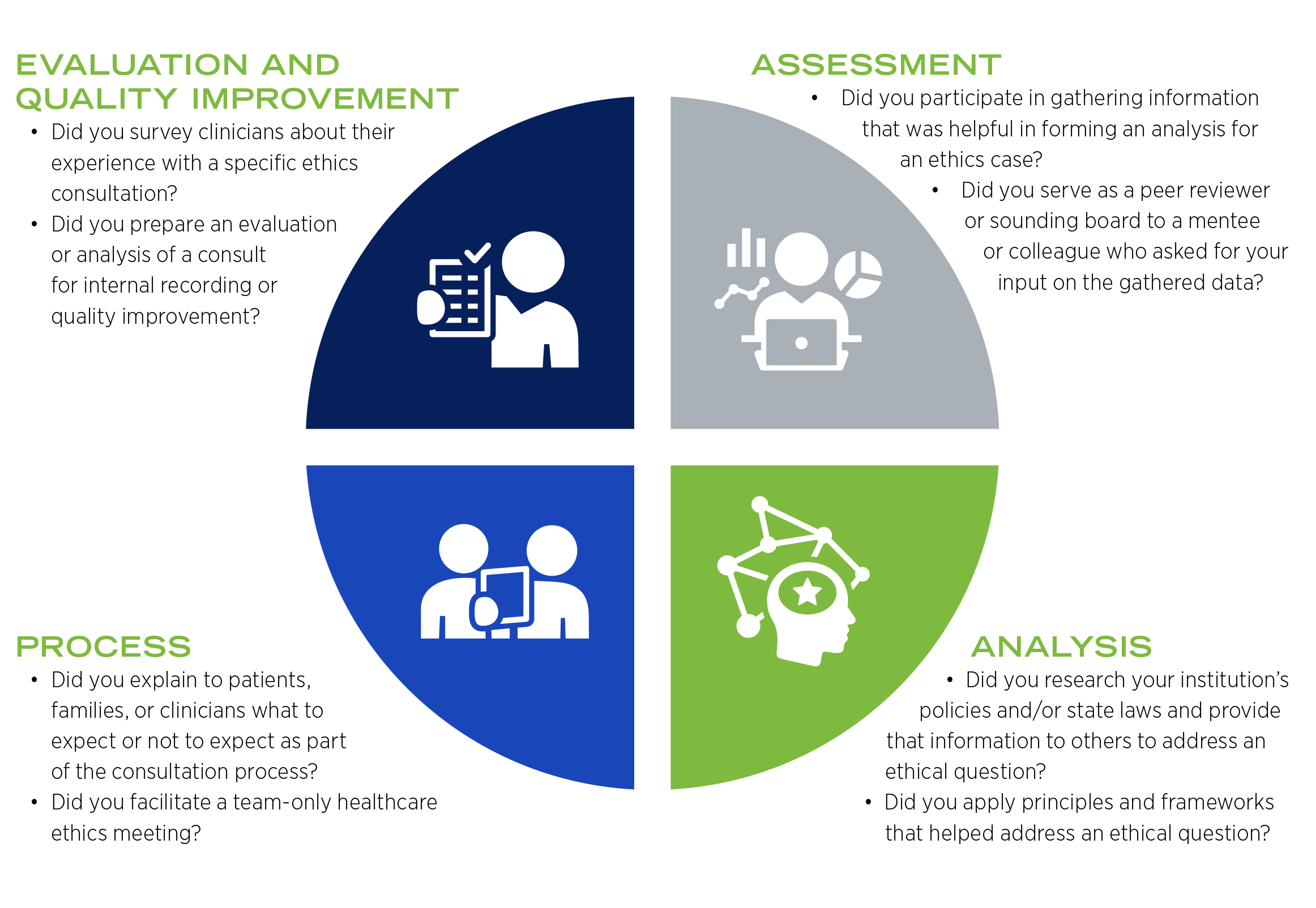 400 hours broken down
Consider an HEC who is an exceptionally efficient ethics consultant, and this person performs a full-scale, all-stakeholders consult entailing the following tasks:
30 minutes of fielding the request for the ethics consult and clarifying the nature and topic of the request
30 minutes of consultation with other ethics colleagues or staff members about the request
30 minutes of talking with the family
30 minutes of having a meeting with all the parties involved
30 minutes to compose an ethics consultation note.
This results in 2.5 hours of qualifying healthcare ethics consultation hours. One of these ethics consults per week would exceed the eligibility requirement for the HEC-C program.
Or consider a different scenario: some HECs report that they typically perform ethics consults that take several hours—approximately 10 hours of work per ethics consult. Ten of these a year will meet the requirement.
Furthermore, while the HEC may not be involved in every ethics consult, they do spend time speaking with a colleague who is taking the lead in running the ethics consult. This time qualifies for experience hours.
Beyond direct ethics consult hours, the following activities are included in the content outline and will qualify for experience hours:
Running clinical ethics teaching sessions. This may involve educating trainees and staff about the ethical dimensions and processes of healthcare ethics consultation, so that they can participate in the consultative process more effectively.
Running debriefings or staff only meetings relating to healthcare ethics consultation. In doing so, you may be tending to relational barriers of communication (e.g., moral distress).
Reviewing or writing hospital policies regarding informed consent, DNAR orders, or other clinical care policies. This work entails reviewing and recommending healthcare ethics policies or helping guide practice change.